2012 Calendar Spreadsheet
---
Our
FREE
2012 Calendar Spreadsheet can be used as an electronic calendar, or printed for display purposes. The calendar features all months of the year and all major US holidays. Add birthdays, personal events, or other celebrations to personalize the calendar.
The print area on the calendar is pre-set, so you can simply open up the spreadsheet, select the appropriate month(tab,) and choose print. Each month will print landscape on a standard sheet of 8 ½ by 11 paper.
Click on the below image or link to download the spreadsheet. Choose
"Open"
to immediately open the template for editing, or choose
"Save"
to save the template to a location on your computer.
If this spreadsheet does not meet your needs, consider a
Custom Spreadsheet
solution.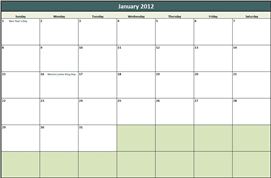 Click here to download our FREE 2012 Calendar Spreadsheet


Note: All Practical Spreadsheets work with Microsoft Excel. Most also work with Google Docs and Open Office.



Return to Complete List of all Calendar and Schedule Spreadsheets