Christmas Budget Spreadsheet
---

This FREE Christmas Budget Spreadsheet will help keep you on track through the Holiday Season. In the spreadsheet you can document all those you will be purchasing gifts for. There are categories for family, friends, colleagues, service personnel, and others.

This budget will allow you to formulate a Christmas purchasing plan. After recording who you will be buying gifts for, what their gifts will be, and what your budgets are, use the Actual column to document purchases to date. This will allow you not only to see variances between your budget and actual expenses, but will also provide a quick visual of those presents that still need purchased.

Click on the below image or link to download the spreadsheet. Choose "Open" to immediately open the template for editing, or choose "Save" to save the template to a location on your computer.

If this spreadsheet does not meet your needs, consider a Custom Spreadsheet solution.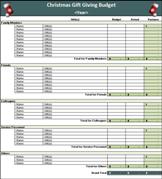 Click here to download our FREE Christmas Budget Spreadsheet


Click here for a good article on Holiday Gift Giving Etiquette. This article describes customary gift giving practices and also offers suggested presents and prices.


Note: All Practical Spreadsheets work with Microsoft Excel. Most also work with Google Docs and Open Office.



Return to Complete List of all Budget and Finance Spreadsheets