Points Tracker Spreadsheet
---

Use our
FREE
Points Tracker Spreadsheet to document all food consumed and time spent exercising. This diet and exercise log automatically calculates and tracks points used against a daily points goal.

This spreadsheet is an excellent addition to any weight loss points program. For each food item entered, document the calories, fat, and fiber. The spreadsheet will then
automatically calculate the points
for that food, and subtract those points from your daily goal. The spreadsheet will also add points gained through exercise. Use this spreadsheet in conjunction with our
Weight Loss Tracker
for a complete diet solution.

Click on the below image or link to download the spreadsheet. Choose
"Open"
to immediately open the spreadsheet for editing, or choose
"Save"
to save the spreadsheet to a location on your computer.

If this spreadsheet does not meet your needs, consider a
Custom Spreadsheet
solution.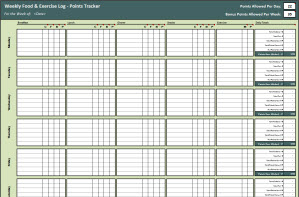 Click here to download our FREE Points Tracker Spreadsheet
Note:
All Practical Spreadsheets work with Microsoft Excel. Most also work with Google Docs and Open Office.




Return to Complete List of all Diet and Fitness Spreadsheets